704E - Farmhouse I Giardini di Margius - Itri (Latina)
Lazio
Farmhouse in Itri near Latina. Agritourism in Lazio. Amenities include swimming pool, horseback riding, restaurant, spa and solarium. Accommodation in bungalows. Pets are also allowed.

Photo preview

B&B - Bungalows - Swimming Pool - Restaurant
The Farm
The farm "I Giardini di Margius" is near the town of Itri, near Latina. It is located in the Lazio region, halfway between Rome and Naples, at the foot of the Aurunci Mountains. As such, it is surrounded by scenic hills and valleys. The terrain alternates between low-lying areas in picturesque lanes and unexpected glimpses of the sea. It is perfect for long walks or horseback riding. The farm is also in close proximity to the sea, allowing for easy accessibility to the beaches, and within easy reach of many tourist destinations. For example, Formia and Gaeta which are located approximately 10 km from Itri . A holiday full of wellbeing, nature and seaside activities. As well as art, culture and nightlife along the coast. With it's 17 hectares of land, the farm is also dedicated to growing olives and the rearing of farmyard animals.
Photogallery
Swimming Pool and other Services
The property also has a beautiful swimming pool surrounded by olive groves reserved for guests of the farm. The pool is equipped with sun loungers and can also be utilized for events and parties. Other services: Pets welcome, horseback riding (reservations required), Camping Area, Jacuzzi, Massages on request, Wellness Center, Relaxation Zone, Solarium, Bar, Restaurant, Nature Trails, Events Organization, Home Theatre, Fireplace, Reading Zone, Barbecue, array of Breakfast options including natural products, Laundry, Shuttle to and from the Railway Station.
Livestock and Products
The farm also raises sheep and Pelatello and Caserta pigs. Not to mention production of meat, eggs, milk and a tasty ricotta . The products are also sold on the property. Also available is extra virgin olive oil made from a single variety called Itrana, which are grown on site. The same olives are utilized as hight quality table olives.
Accommodation in Bungalow
The bungalows available for guests all offer amenities such as air conditioning, hot and cold water, bathroom, hair dryer, mini-bar, stereo, TV, dryer to help you enjoy a pleasant and relaxing holiday . Our finely crafted, wood bungalows, can accommodate 2 people per bungalow. Each is a free standing structure surrounded by greenery, with a lovely veranda including a hammock from which to enjoy the beautiful landscapes.
Prices and Services
For prices and services click on the button.
Prices may vary according to offers, period, length of stay and required services.
For a personalized quote please contact us by filling in the information request form.
Prices
Services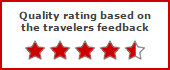 Località Le Vaglie - 04020 - Itri (Latina)

Contacts and Information
- To ask for availability and prices fill out the form below.
- In the "Message" field write your request and if you have children specify their age.
- You will receive an e-mail with all information, prices and our contacts.
Fill out this form to ask for availability and prices. Thank's!
Conditions and Warranties on the Service