831E - Farmhouse La Palombara - Paola (Cosenza)
Calabria
Economic farmhouse in Paola near Cosenza. Agriturismo in Calabria with rooms, apartments, swimming pool and restaurant. Organic farm ideal for children and in a panoramic position between the sea and mountains.

Photo preview

Rooms - Apartments - Pool - Restaurant - Near the Seaside - Economic
The farmhouse
The farmhouse "La Palombara" is located in Paola, near Cosenza. We are in the beautiful Calabria on a hillside 450 meters from the sea level, in an area full of beautiful places and natural landscapes , in a strip of land where you can hike ranging from the Pollino National Park to the beautiful shores of the Tyrrhenian coast from religious shrines in rejuvenating thermal spas. The property is within close proximity of the beautiful Tyrrhenian coast , where beach lovers can spend unforgettable days in major seaside resorts in the area such as Paola same, Diamond, Cetraro, Amantea, etc. It's can also make day trips by hydrofoil to the Aeolian Islands or, in about two hours, reach Tropea.
Restaurant and Swimming Pool
In the restaurant of the farm you can enjoy excellent dishes prepared according to old traditions and farm products strictly with organic label . During the summer you can also enjoy a swimming pool and a wide terrace that offers breathtaking views that range from sunsets over the sea to the beautiful surrounding hills and mountains . The restaurant of the farm is also suitable for banquets, weddings, children's parties, piano bar and music with karaoke. The restaurant is open for lunch and dinner and reservations are required.
Photogallery 1
The farm
The farm produces peaches, figs and apricots. Grow crops, various vegetables and is gorgeous reap what you will eat a few hours later. To the delight of children, there is the keeping of poultry, rabbits, pigs, sheep, goats and cattle. For lovers of the products of the forest and walks there is the pleasure of picking mushrooms, strawberries, blackberries and raspberries. Adults and children can actively participate in various business activities such as picking fruit and garden products, breeding of farm animals and take walks with collection of products of the forest.
Rooms
The farmhouse offers comfortable rooms equipped with every comfort all with sea views and furnished in rustic, decorated to recall the ancient atmosphere of the past. The rooms are all very comfortable and equipped with all comforts. The furnishings are in rustic creating an atmosphere that takes you back in time. In some periods of the year, early in the morning and in the evening at dusk, it's nice to see from the windows of the rooms migrating herds of sheep and cattle to the high pastures, with the shepherds who leave us fresh milk, cottage cheese and cheeses prepared a few hours before by their wives. Truly a charming setting between sea, mountains, nature and ancient traditions.
Apartments
There are also two apartments as follows:
Apartment 1: two bedrooms with two double beds + two beds, bathroom, fully equipped kitchen and TV.
Apartment 2: two bedrooms with a double bed and two single beds, bathroom, fully equipped kitchen and TV.
Photogallery 2
Prices
Prices may vary according to offers, period, length of stay and required services.
For a personalized quote please contact us by filling in the information request form.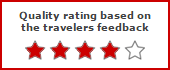 Via Palombara, 1 - 87027 - Paola (Cosenza)

Contacts and Information
- To ask for availability and prices fill out the form below.
- In the "Message" field write your request and if you have children specify their age.
- You will receive an e-mail with all information, prices and our contacts.
Fill out this form to ask for availability and prices. Thank's!
Conditions and Warranties on the Service