1174E - Farmhouse Casa delle Erbe - Albareto (Parma)
Emilia Romagna
Farmhouse in Albareto near Parma, ideal for romantic holidays. Agriturismo in Emilia Romagna with swimming pool, bedrooms, vegetarian restaurant and spa. Pets allowed.

Photo preview

Rooms - Swimming pool - Spa - Vegetarian restaurant
Farmhouse
The farmhouse is in Albareto near Parma. We are in Emilia Romagna, along the Apennines, near Tuscany and the ligurian coasts. The house is surrounded by a wonderful nature, the ideal place where spend a romantic holiday characterized by wellness and relax. At the guests disposal whirlpool tubs, a spa, aromatic infusions and massages with essential oils. Our biologic cuisine will show you how to prepare delicious and genuine meals. At the farm we produce vegetables, wines, honey and aromatic plants for herbalist products.
Vegetarian Restaurant
Our vegetarian restaurant is reserved to the guests of the farmhouse and offers a fixed menu. Our region is renowned thanks to delicious products as Parmigiano Reggiano, the IGP fungo porcino of Borgotaro and albareto, the famous Prosciutto di Parma. Our cuisine is based only on high quality ingredients. The recipes are enriched with our officinal plants and our honey, characterized by important nourishing elements. Moreover, the honey is used instead of the sugar in the preparation of the sweets. Daily we even prepare homemade bread with biological flours.
Photogallery
Romantic weekend
At the farmhouse couples can live an unforgettable weekend in the pursuit of wellness and relax. All our accommodations are provided with bathroom with whirlpool, candles and essential oils, ideal to create a romantic atmosphere. These oils are extracted by aromatic plants cultivated at the farm. Moreover, dinners are served by candle light.
Spa
Our farmhouse has a comfortable spa, characterized by high quality and coziness. The spa makes available an infrared sauna for couples, ideal for unforgettable moments of intimacy. One of our strong points is the aromatherapy, it includes an opening massage with lavender oil and a relaxation on a heated water massage bed that allows a complete absorption of the essence. Moreover, our guests can ask for various relaxing treatments as reflexology and finger pressure. The aim of the treatments is to guarantee our guests privacy and tranquillity.
Activities
We are located on the Apennines, the ideal place for naturalistic walks and bike trips. The Taro valley is famous for the porcino mushrooms and the production of Parmigiano Reggiano. Near Albareto there are the wonderful castles of Compiano and Bardi. Moreover, the Cinque Terre are at only 60 minutes by car from the farmhouse. You can even organize horse rides along the woods; beginners will be accompanied by expert guides. In Alta Val di Taro and Ceno, for those who sojourn for at least two nights in the housing centres that subscribe to this promotion, there is a free pass for the harvest of Borgotaro mushrooms.
Rooms
Our rooms are provided with mini-fridge, private bathroom with whirlpool, Wi-Fi connection, television with DVD player, hair-dryer, bath towels and bed linen. The four superior bedrooms have a spacious corner tub with whirlpool. Every accommodation is rearranged starting from the third day. It is even possible to ask for the room service. Moreover, the bedrooms have independent entrance, ideal for a more reserved stay. Pets are free allowed.
Photogallery of Rooms
Prices
For prices click on the button.
Prices may vary according to offers, period, length of stay and required services.
For a personalized quote please contact us by filling in the information request form.
Prices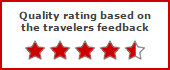 Frazione Pieve di Campi, 60 - 43051 - Albareto (Parma)

Contacts and Information
- To ask for availability and prices fill out the form below.
- In the "Message" field write your request and if you have children specify their age.
- You will receive an e-mail with all information, prices and our contacts.
Fill out this form to ask for availability and prices. Thank's!
Conditions and Warranties on the Service
Farmhouses Emilia Romagna