721E - Farmhouse Baglio Cudia - Marsala (Trapani)
Sicilia
Farmhouse in Marsala near Trapani. Charming resort in Sicilia with elegant rooms, swimming pool and restaurant. Near the seaside and ideal for romantic holidays and rural tourism.

Photo preview

Rooms - Smwimming Pool - Restaurant - Near the seaside
Country Resort with Swimming Pool
Our country resort is close to the Laguna of Stagnone, in Sicily, near Trapani. We have a swimming pool and we are about 5 km from the old town centre of Marsala and a short distance from the Trapani- Birgi airport. The farm is in the vicinity of the lagoon, so you can reach in a few minutes the landing stage of the archaeological site of Mothia (this centre was founded by the Phoenicians in the eighth century B.C.. Moreover, thanks to the strategic location, our guests can take in the most interesting sights of the region, such as Erice, San Vito lo Capo, Segesta, Selinunte, the Cave di Cusa, the Riserva dello Zingaro and the Egadi Islands.
Restaurant
Inside the building there is a spacious living room with masonry arches, used as a restaurant. It is also used for the organization of weddings, meetings and receptions. The menu offered to our guests includes a selection of traditional Sicilian dishes matched with the most renowned local wines. The accuracy of the details is also revealed by the outdoor spaces, where there are green spaces, such as the "Garden of Pomegranates" and the "Mini-oasis of palms ". The high quality of our services makes us one of the first structures destined to elite rural tourism.
Photogallery 1
Sea and Surroundings
Our Resort is a charming and relaxing starting point to explore this area of Sicily, to visit the salt pans and the windmills. Moreover you can pass through the "riserva dello Stagnone" to reach Mozia island, Unesco heritage. Thanks to the privileged location, our guests can easily visit renowned places such as Erice, Segesta, San Vito lo Capo, the Riserva of Zingaro, the Cave of Cusa, Selinunte and the archipelago of the Egadi islands. The Resort is very close to the sea, so you can experience the most interesting water sports: windsurfing and kitesurfing.
Rooms
After many years of restoration and modernization, our structure has been destined to tourist services within its naturalistic and archaeological context. This work has allowed us to offer our guests a modern and efficiently resort, while maintaining the elegance and the charm of the past. The agritourism offers rooms with private bathroom, these accomodations reflect the typical style of nineteenth-century Sicilian Bagliotti. They are all equipped with television, telephone, mini-bar and air conditioning. Children under 5 are free and, on request, we make available cribs and additional beds.
Photogallery 1
Prices and Information
For services and information click on the buttons.
Prices depends on season and requested services.
To contact us fill out the information request form.
Services
Information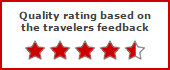 Contrada Spagnola, 381 - 91025 - Marsala (Trapani)

Contacts and Information
- To ask for availability and prices fill out the form below.
- In the "Message" field write your request and if you have children specify their age.
- You will receive an e-mail with all information, prices and our contacts.
Fill out this form to ask for availability and prices. Thank's!
Conditions and Warranties on the Service