716E - Farmhouse Locanda dell'Istrice - Camerino (Macerata)
Marche
Farmhouse in Camerino in province of Macerata. Farmhouse in Marche, at the feet of the Monti Sibillini with apartments and restaurants. Ideal for nature lovers, hiking and horseback riding. Pets are allowed.

Photo preview

Apartments - Restaurant - Sibillini Mounts - Cheap
The Farmhouse
The farmouse is located in a hilly area of Camerino, at the foot of the Monti Sibillini. We are near Macerata in the Marche, in a beautiful natural setting of the park. At a distance of few kilometers there are the two lakes of Fiastra and Caccamo characterized by crystal-clear water and the enchanting surroundings and, for lovers of hang gliding and paragliding, the Mountains Cucco and Gemmo, very popular for this type of activity.
Restaurant
In our farmhouse It is possible to enjoy the excellent food sitting under the Rocca d'Ajello. Delicious typical dishes of the cuisine of Macerata with local ingredients and seasonal produce. Typical local dishes and specialties of the company as of the Palline d'istrice made with sheep's milk ricotta or Vegetarian Carbonara with asparagus. It is possible to accompany the dishes with the excellent organic beer or wine of the Marches as Lacrima di Morro d'Alba, Rosso Piceno, Verdicchio, Passerina and Pecorino. Sometimes we organize dinners of German specialties.
Photogallery
Activities and Surroundings
The Marche region is beautiful for its landscapes and also because it has not yet touched by mass tourism. There are many opportunities for leisure and sport, usually in a family dimension. Walking in the mountains, swimming in the lake, enduro and off-road, paragliding, hang gliding and unforgettable horseback riding in the beautiful forests of the area. Starting from the structure and then from the impressive Rocca d'Ajello, It is possible to find many other places of interest such as the natural caves of Frasassi and St. Eustace, the lake of Cingoli, but also centers of great cultural interest as the same Camerino, San Severino Marche, Gagliole and Pievebovigliana.
Nature and Good cuisine
Our farmhouse is the ideal place for a relaxing holiday or a weekend with your loved ones. We are under a medieval fortress with breathtaking views, between trees and away from everyone to recharge from daily stress, to live together a few days or a weekend, to speak in a relaxed atmosphere, to think and play freely. At the farmhouse you'll taste the most interesting recipes of the region and you'll discover various delicious wines, ideal for holidays in the pursuit of wine and food culture.
Apartments
The farmhouse has 2 apartments and a large apartment, with the addition of another 3 mini apartments thanks to the collaboration with a B & B nearby. They are all comfortable and welcoming accommodation, equipped with a kitchenette, sink, refrigerator and air conditioning. Two small apartments are suitable for disabled people. The term "suitable for disabled" only means that it fulfills more or less the rules for the removal of architectural barriers. Our structure has explored this aspect and we know that, thanks to friends in wheelchairs, each person has their own abilities and disabilities. We want these people who book a holiday with us stay at ease.
For a description of the apartments click on the button.
Apartments
Apartments Photogallery
Prices
For prices click on the button.
Prices may vary according to offers, period, length of stay and required services.
For a personalized quote please contact us by filling in the information request form.
Prices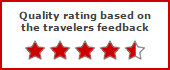 Località Rocca d'Ajello - 62032 - Camerino (Macerata)

Contacts and Information
- To ask for availability and prices fill out the form below.
- In the "Message" field write your request and if you have children specify their age.
- You will receive an e-mail with all information, prices and our contacts.
Fill out this form to ask for availability and prices. Thank's!
Conditions and Warranties on the Service