714E - Farmhouse La Perciata - Siracusa (SR)
Sicilia
Farmhouse in Siracusa, close to the seaside. Agriturismo in Sicilia with swimming pool, restaurant, rooms apartments and beautiful villa. Ideal for sport and nature lovers.

Photo preview

Rooms - Apartments - Villa - Swimming pool - Restaurant - Near the seaside
Farmhouse
The farmhouse is near Siracusa, in the beautiful Sicily. It is situated in a nature reserve, in an area where are intertwined the beautiful landscapes of the ancient Sicilian countryside and the brilliant blue of the Ionian Sea. It is set in a rich culture and Siracusa adds architectural and cultural treasures of immense value: Ortigia, the old town centre, the classical pieces in the Greek theatre and the museums.
Swimming pool and Activities
To fully enjoy life and farm activities the company provides to its guests a beautiful swimming pool set in a lush garden with typical Sicilian including a tennis court. For lovers of horse riding it is possible go to reach a riding school near the hotel about 3 km away. The farm is located between the sea and the mountains and is located 6 km from the beautiful beaches of Fontane Bianche, where you can also go horse riding.
Photogallery 1
Restaurant and typical products
In the restaurant of the structure it is possible to have dinner with fantastic dishes of the Sicilian cuisine having absolute relax surrounded by the beautiful Mediterranean vegetation. It is perfect also for who desires to live a marriage in unique surroundings immersed in a pristine and spectacular landscape without giving up a great value for money in a perfect setting. One of the many strengths of the farmhouse is the production and sale of organic food which can be enjoyed even in the dishes offered by the restaurant and delicious jam made from the fruit company.
Sea and Surroundings
The farmhouse is very close to the sea. For lovers of the sea it is possible to reach the beach of Fontane Bianche (6 km) where It is possible to choose between equipped beaches and cliffs. The farmhouse is also very close to the caves Monello, a wonderful place full of stalactites and stalagmites. Our farmhouse is the ideal starting point to reach Siracusa, at only 11 km. You can visit the inner city, various museums, the Greek theatre and the island of Ortigia.
Apartments, Rooms and Villa
The farmhouse has 3 apartments with a kitchenette, 8 rooms equipped with television, telephone, TV, mini bar and air-conditioned rooms and a villa with 4 beds. Every accommodation is provided with air conditioning and the apartments have a kitchen area totally equipped. The rooms are exposed on the garden while the apartments have a wonderful view on the landscape of Siracusa.
Photogallery 2
Prices
Prices may vary according to offers, period, length of stay and required services.
For a personalized quote please contact us by filling in the information request form.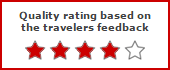 Via Spinagallo, 77 - 96100 - Siracusa

Contacts and Information
- To ask for availability and prices fill out the form below.
- In the "Message" field write your request and if you have children specify their age.
- You will receive an e-mail with all information, prices and our contacts.
Fill out this form to ask for availability and prices. Thank's!
Conditions and Warranties on the Service