1211E - Farmhouse Monte Tondo - Soave (Verona)
Veneto
Farmhouse in Soave near Verona. Agriturismo in Veneto with swimming pool, rooms, apartmetns, suites and wine production. Ideal for nature and wine and food lovers.

Photo preview

Rooms - Apartments - Suites - Swimming pool - Wine and food tourism
Farmhouse
Our farmhouse is in Soave, a medieval town with a wonderful castle, surrounded by the green hills of Veneto. The B&B have comfortable rooms, suites and apartments, ideal for every need. Soave is renowned for the famous white wine. Nature lovers can find in this region the perfect place where to experience outdoor activities and relax among the nature. We have also an agricultural farm that produces delicious wines.
Wine production and Tastings
The estate covers more than 25 hectares of vineyards among the hills that surround Soave. The cultivation of grapevine and the selection of the bunches are managed in order to obtain high-quality products. At the farm we organize delicious tastings, ideal for wine lovers and for those who want to learn something more about the techniques of wine-making.
Photogallery
Swimming pool
Our swimming pool is located within the garden and it is opened during the summer season, from May to September. It is provided with comfortable sun beds. The pool is the ideal place where the guests can find relax and the silence of nature.
Surroundings
Our agriturismo is in a strategic position to easily reach the most interesting tourist destinations of Veneto as Vicenza and Verona, the town of theatre. Moreover, we are a few minutes from the wonderful medieval inner city of Soave. Nature lovers can organize pleasant excursions along the lake banks, from Asiago to Sirmione. Wine and food enthusiasts have even the possibility to discover the various specialities of the region.
Rooms, Suites and Apartments
The farmhouse has different accommodations, ideal for every needs of our guests. Five mini-apartments for three or four persons are provided with kitchenette, air conditioning, television, double sofa bed, and double bed on the loft. These apartments are perfect for families and group of friends. The three double rooms are equipped even for a shorter stay, indeed they have television, mini-bar and air conditioning. Moreover, the two suites create a romantic atmosphere, they are ideal for couples that want to find tranquillity and privacy.
To read the description of rooms, suites and apartments click on the button.
Information
Photogallery of Rooms, Suites and Apartments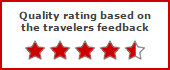 Via San Lorenzo, 89 - 37038 - Soave (Verona)

Contacts and Information
- To ask for availability and prices fill out the form below.
- In the "Message" field write your request and if you have children specify their age.
- You will receive an e-mail with all information, prices and our contacts.
Fill out this form to ask for availability and prices. Thank's!
Conditions and Warranties on the Service